#1 Moving Company Amsterdam
Moving Company Amsterdam - Your Trusted and Reliable Movers
Welcome to our Amsterdam moving company. We are experts in making your move easy and stress-free. Looking for help with moving? We're here for you, whether your move is near or far. Our moving services are reliable and smooth. We promise to take good care of your belongings. Our team is friendly and professional. You can trust us to do a great job. Moving can be a breeze with us. In the end, you'll be happy and relaxed with our work. Choose us for a worry-free move.
Use our moving quote tool to:
Wondering about the cost of moving? We simplify the process for you. Request a moving quote instantly, estimate the volume of your furniture, and receive expert advice from our experienced movers
Our Services
Whatever your circumstance you're in, we'll provide a complete list of moving options, that means we can tailor your entire move to fit your preferences, timing and budget.
Why Choose Us as Your Preferred Removalist in Amsterdam
Explore Our Diverse Moving Services in Amsterdam
Looking to move your household in Amsterdam? Whether it's across the city or farther away, our family-friendly moving services make the transition smooth and worry-free. We're experts in catering to the unique needs of families and individuals, ensuring a comfortable move to your new home.

Amsterdam businesses, big or small, can rely on us for efficient office moves. Our skilled team carefully handles all corporate assets, from desks to high-tech equipment, ensuring everything arrives safely and on time.

We provide empathetic and tailored moving services for Amsterdam's seniors. Understanding their special needs, our team ensures a comforting and effortless moving experience.

Need to move a piano or other unique items in Amsterdam? Our skilled movers handle delicate, odd, and valuable items like antiques with the utmost care, ensuring they're transported safely and securely.

Comprehensive Logistics Support:

In Amsterdam, we offer end-to-end logistics support for your move. From initial planning to final setup, our team works tirelessly to ensure a smooth and efficient moving process.

Global Moving Expertise:

Moving abroad from Amsterdam? Our international moving services are comprehensive, designed to handle every aspect of your overseas relocation with ease and professionalism.

Expats moving to Amsterdam will find our services perfectly tailored to their needs. We understand the challenges of relocating to a new country and offer dedicated support every step of the way, ensuring a seamless transition into life in Amsterdam.
Choose our Amsterdam moving company for diverse solutions, perfectly aligned with your individual moving needs. We're here to make your move as smooth and stress-free as possible.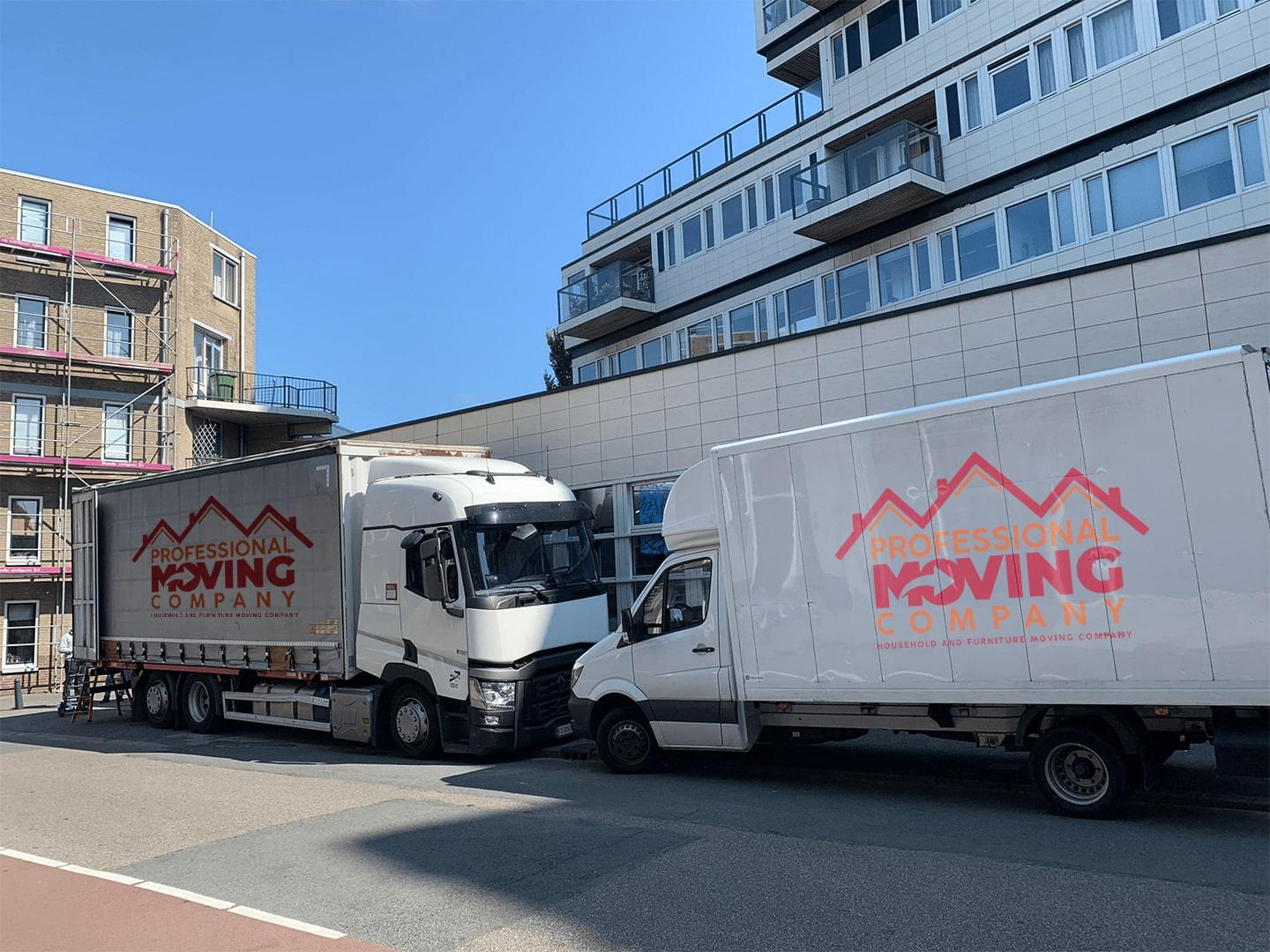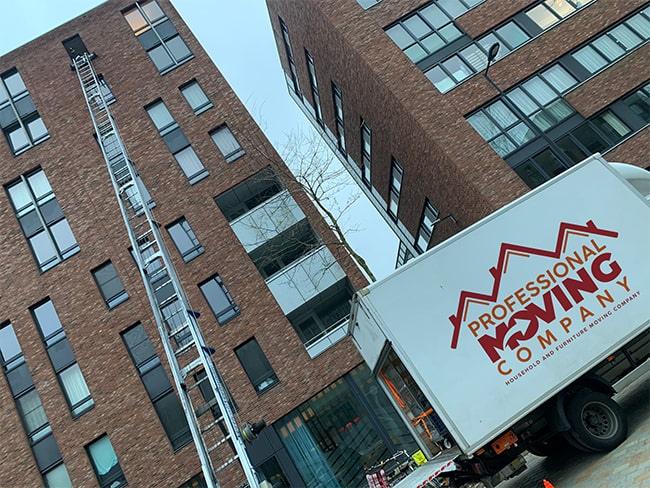 Effortless Moving Services in Amsterdam: Get Your Custom Quote Today!
Start Your Stress-Free Moving Journey with Professional Moving Company Amsterdam
Are you planning a move in Amsterdam? Look no further! At Professional Moving Company Amsterdam, we transform the often-stressful moving process into a smooth and seamless experience. Our commitment to excellence, combined with a comprehensive range of services, makes us the ideal choice for your next move.
Why wait? Take the first step towards a hassle-free move:
Get a Tailored Moving Offer:

Ready to discover how we can make your move effortless? Request a personalized offer now! Our transparent pricing means no surprises, just honest and upfront costs.

Request Moving Services:

Whether it's a local jaunt or a long-haul relocation, book our moving services today. Our team is skilled in handling both residential and commercial moves, ensuring your belongings are in safe hands.

Secure Your Moving Slot:

Popular dates fill up fast! Don't miss out – book your moving slot now to secure the date that works best for you.

Get Expert Advice:

Have questions or need guidance? Our team is here to help. Get expert advice from experienced movers who know Amsterdam inside out.

Explore More Services:

We offer a complete suite of household moving services tailored to your needs. This includes professional packing services, ensuring your belongings are securely packed for transit. Our skilled team can handle furniture disassembly and assembly, making moving large items hassle-free. We also provide unpacking services to help you settle into your new space quickly. Need a moving lift or assistance with parking and logistics? We've got you covered. Additionally, we offer student moving solutions designed for low budget needs, ensuring every move is affordable. At Moving Company Amsterdam, we have everything you need for a smooth and efficient move.
Contact us today and let's get moving!
What our clients say about us
We take pride in our client reviews. They say that we are professional, fast, reliable and provided them with a high quality moving service!!
Our slient satisfaction is top priority!
Welcome to Amsterdam's Top Moving Company
Proven Excellence in Moving

Our Amsterdam moving company stands for professionalism, integrity, and excellence. Our customers are very happy with our movers and moving services, and have given us many positive reviews. 

Complete Moving Solutions

For every move, local or long, personal or business, we're here. Trust us with your move. We offer local and international removals, and our international moving company serves all major countries in Europe and the world. 

Quality Packing for Safety

We use top packing materials. Your belongings stay safe. Our moving boxes are strong and spacious. Our moving vans are clean, equipped with all necessary tools and regularly maintained.

Experienced Movers for Efficiency

Our team in Amsterdam moves with precision and care. Our movers are highly skilled and trained. Our movers can solve any complex moving situation. We also have handyman services for full disassembly and assembly of furniture like IKEA closets and beds.

Clear, Trustworthy Moving Quotes

Our moving quotes have no hidden fees. We are clear and fair. You can get our moving quotes for free, and they fit all budgets. Our quotes list all the expected costs, making it easy to understand. Request a quote immediately!

 
Your Moving Questions Answered
Finding the Right Moving Company
Look for experience, services, fair pricing. We have it all.
Packing and Unpacking Services
Need packing help? We pack and unpack with care.
Ready for International Moves?
Yes! We make international moving from Amsterdam easy.
Booking Your Move
Book early, at least two weeks before. Secure your spot!
Insurance for Your Items
Your belongings are insured for a worry-free move.
Preparing for Your Move
Declutter, list items. Review our moving guidelines for easy preparations.
Requirements for International Moves
We guide you through permits and regulations for a smooth move.
Moving Large Items
Bulky items? We handle them with care.
Why Choose Us?
Stress-free, eco-friendly, top service. We're different.
Get Your Personalized Quote
Contact us for a tailored quote fitting your budget. Start here.
Our Amsterdam Neighborhood Services
From Centrum to Zuidoost, we cover all areas. Just ask!
Amsterdam Neighborhoods We Serve
Amsterdam Centrum: The heart of Amsterdam, perfect for vibrant city life.

Amsterdam Noord: Modern and artistic. Great for innovation lovers.

Amsterdam Oost: A mix of old and new for dynamic living.

Amsterdam West: Trendy cafes and shops. A creative hub.

Amsterdam Zuid: Upscale and luxurious. For elegance and style.

Amsterdam Zuidoost: Green spaces, urban feel. Culturally rich.

Amsterdam Oud-Zuid: Luxurious, with museums and dining. Sophisticated lifestyle.

Amsterdam Oud-West: Culturally diverse, trendy eateries. Urban energy.

Amsterdam Nieuw-West: Developing area with greenery. Ideal for families and professionals.

Amsterdam IJburg: Unique living experience on artificial islands with modern architecture.

Amsterdam Bos en Lommer: Up-and-coming, diverse community. Affordable and dynamic.

Amsterdam De Pijp: Lively streets, multicultural eateries. Young urbanite favorite.

Amsterdam Rivierenbuurt: Peaceful, family-friendly. Spacious apartments near the Amstel River.

Amsterdam Jordaan: Charming, historic area with trendy boutiques and rich artistic heritage.

Amsterdam Plantagebuurt: Green, spacious, home to Artis Zoo and museums. Tranquil yet central.

Amsterdam Westerpark: Creative area around the popular park. Cultural events and green spaces.

Amsterdam Oostelijk Havengebied: Modern waterfront living with stunning views. Unique urban lifestyle.

Amsterdam Indische Buurt: Lively, multicultural with diverse housing. Appeals to a wide range of residents.

Amsterdam Watergraafsmeer: Quiet, green suburb with spacious homes and gardens. Ideal for serene living.

Amsterdam Buitenveldert: Near Amsterdamse Bos. Peaceful with easy city center access.

Amsterdam De Baarsjes: Emerging neighborhood with a vibrant cultural scene and trendy cafes.

Amsterdam Bos en Lommer: Diverse population, affordable housing. Authentic Amsterdam experience.
This list isn't exhaustive. Professional Moving Company serves all over Amsterdam. Contact us for any specific neighborhood inquiries.