#1 Moving Company The Hague
Moving Company The Hague - Effortless Relocation in The Hague
Moving Company The Hague is your trusted and budget-friendly moving choice for all your relocation needs. Our experienced Hague movers have successfully assisted countless customers, prioritizing professionalism and competitive pricing. At Professional Moving Company, we're committed to guiding you through every step of your move and offer a variety of affordable quotes to make your relocation smooth and cost-effective.
Get Started with Our User-Friendly Moving Quote Tool: Fast, Easy, and Accurate Estimates for Your Move
Secure a competitive price estimate for your move and verify the availability of your preferred moving date with ease. Act fast to confirm your booking with us and ensure a smooth, hassle-free relocation experience
Our Services
Whatever your circumstance you're in, we'll provide a complete list of moving options, that means we can tailor your entire move to fit your preferences, timing and budget.
Why Choose Us as Your Preferred Removalist in The Hague
Choosing the Right Moving Company in The Hague: Why Professional Moving Company Stands Out
Experience stress-free household moves in The Hague. Our services are perfect for both families and individuals, covering local to long-distance relocations professionally.
In The Hague, our corporate moving services offer seamless transitions for your office. We ensure secure and efficient relocation of your company's assets and equipment.
Our team in The Hague provides compassionate, personalized moving services for senior citizens, focusing on comfort and efficient relocation.
Trust us in The Hague to handle your delicate items like pianos and antiques. We specialize in moving odd and unconventional belongings with care.
Logistics Support
Receive comprehensive logistics support for your move in The Hague. From planning to execution, we ensure a smooth moving process.
Simplify your international relocation from The Hague with our expert services. We take the stress out of cross-border moving.
Our expat moving services in The Hague are designed for those new to the city. We make your international transition smooth and hassle-free.
For challenging relocations in The Hague, our Moving Lift Services provide an efficient solution. We ensure a safe and smooth move with our advanced equipment.


Your Preferred Moving Expert in The Hague
Choose us for a range of tailored moving solutions in The Hague, crafted to meet your specific needs. We're dedicated to delivering a seamless and worry-free moving experience.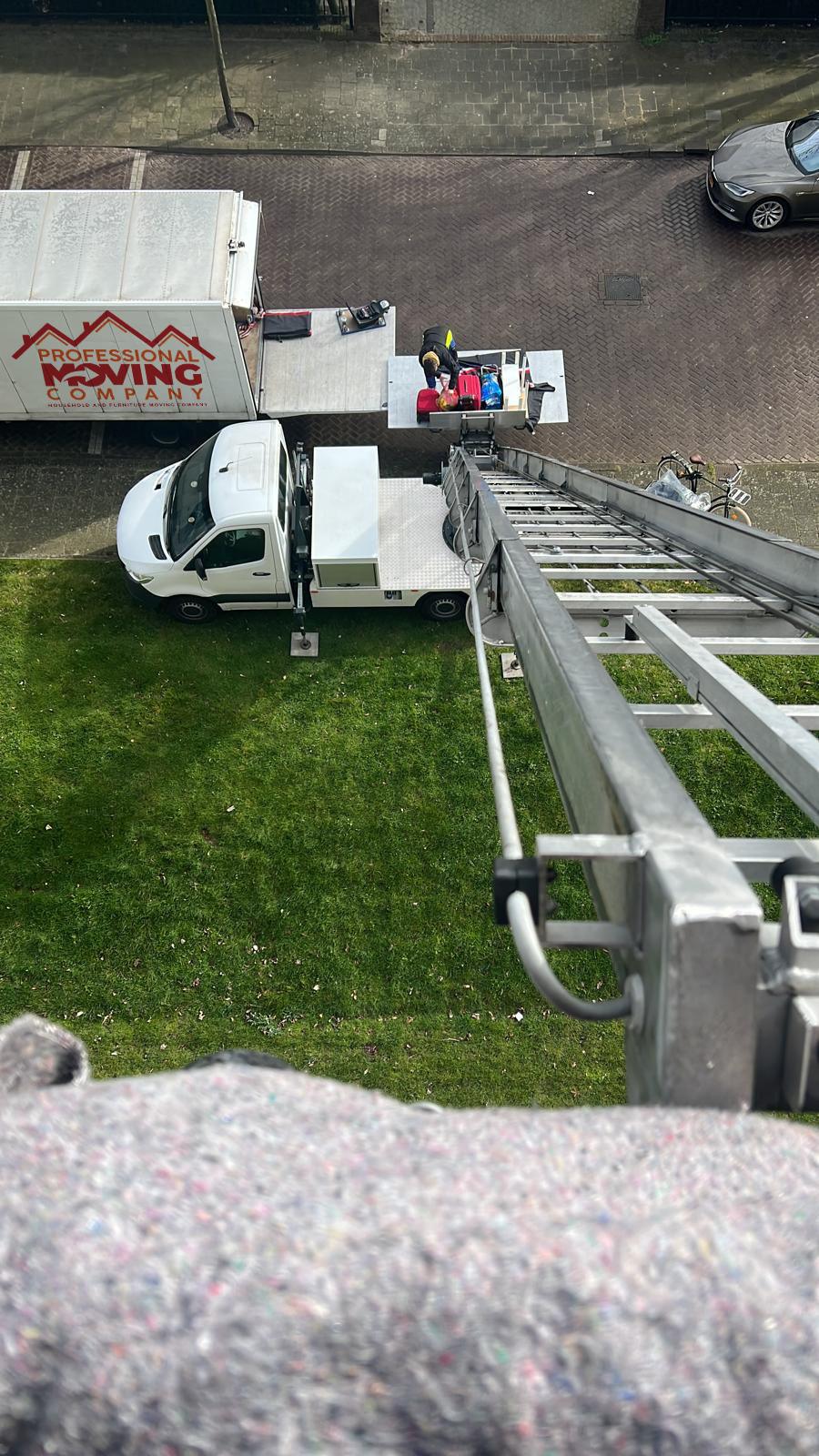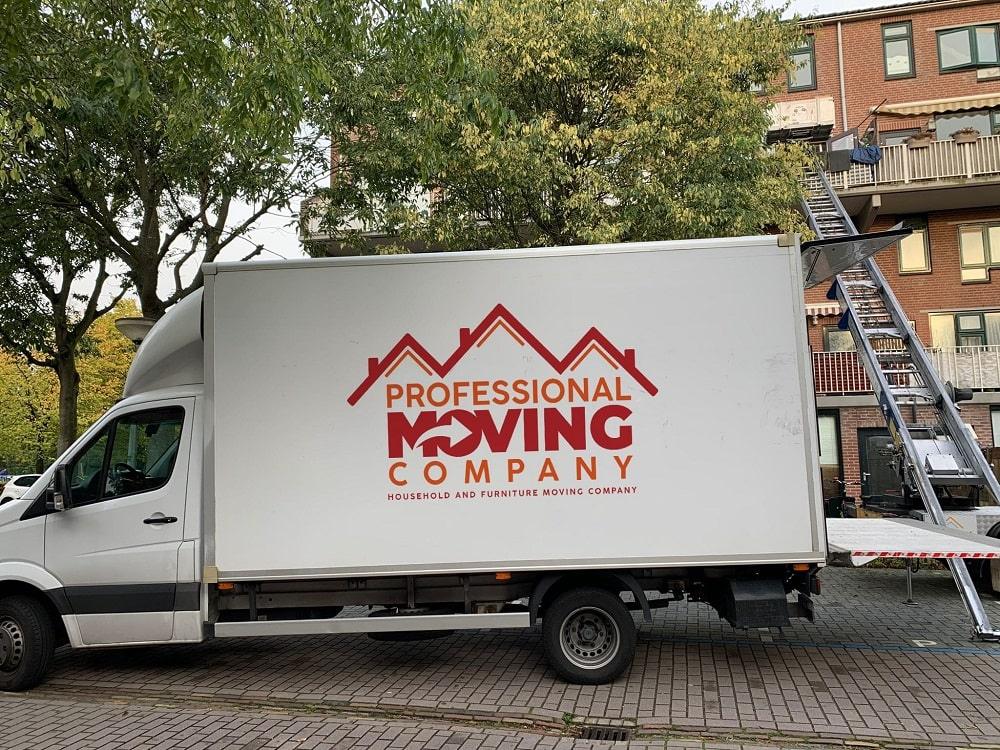 Moving Company The Hague - Transparent Moving Company Costs
Moving Company The Hague: Your Trusted Partner for Stress-Free Relocations

At Moving Company The Hague, we're dedicated to providing transparent and upfront pricing for your relocation needs. Our commitment to clarity ensures you'll face no surprises, guaranteeing an informed and seamless moving journey.
Tailored Moving Costs by Moving Company The Hague
Explore our flexible, transparent pricing structure, designed to meet your specific moving needs in The Hague:
🚚 Select the Perfect Truck Size for Your Move

Choose the ideal moving truck from our extensive fleet, tailored to fit the scale of your relocation. Our flexible pricing ensures you only pay for what you need, optimizing your moving budget.

⏱️ Efficient Moving for Time and Cost Savings

At Moving Company The Hague, we value your time. Our skilled movers work swiftly and efficiently, reducing your costs and speeding up your transition to your new home or office.

✨ Customized Special Services for Your Move

We offer a variety of additional services, including packing and furniture assembly, tailored to your preferences. With detailed cost breakdowns, you control the services you select for a truly personalized move in The Hague.
Choose Moving Company The Hague for a moving experience marked by cost-effectiveness and tailored coordination. Use our user-friendly moving cost calculator for an instant estimate and embark on a worry-free relocation today.
Professional Moving Services in The Hague: Comprehensive Solutions by Expert Movers
Professional Movers at our Moving Company not only specialize in efficiently moving your belongings but also offer expert disassembly and reassembly services. We take pride in meticulously packing and unpacking all your items, ensuring a seamless transition.
In addition to moving services, Professional Moving Company provides both short-term and long-term storage solutions in The Hague. Whether you're seeking extra space in your home or need storage during your moving process, our convenient storage options are designed to meet your specific needs.
Many Years Of Experience In The Removal Industry
Professional Moving Company, based in The Hague, brings years of expertise in the removals industry, catering to both individuals and businesses. We specialize in creating custom-tailored moving plans to fit your unique needs. Our team is dedicated to accommodating all your preferences and requirements for a seamless move.
We offer comprehensive removal services, handling every aspect of your move. Additionally, we provide targeted services to assist in relocating your home, including the safe transportation of large, heavy items like closets and major appliances.
Budget Friendly Moving Service In The Hague
Looking for budget-friendly yet quality moving services in The Hague? Look no further! Professional Moving Company specializes in providing top-notch moving solutions at competitive prices. Say goodbye to worries about inexperienced or unprofessional movers; our team is composed exclusively of seasoned, friendly professionals dedicated to making your move smooth and stress-free.
Ready to take the next step? Contact us for a complimentary, no-obligation quote tailored to your specific moving needs. This way, you'll have a clear understanding of the costs involved in your move to or from The Hague before it even begins. Choose Professional Moving Company for an affordable, high-quality moving experience that doesn't cut corners on service
Why Choose A Professional Moving Company In The Hague
Choose Professional Moving Company for a seamless moving experience in The Hague, backed by our team of certified and experienced movers. We use only professional equipment, ensuring that your move is handled with the utmost care and efficiency.
We understand that sometimes, despite all precautions, unintentional damage can occur during a move. That's why we've got you covered with comprehensive insurance for added peace of mind. Trust us to not only take every precaution to prevent damage but also to provide robust insurance protection, just in case. Rely on Professional Moving Company for a worry-free move where safety and professionalism are our top priorities
Best Moving Service In The Hague
Discover why The Hague is a top choice for many, whether it's for family reasons, career opportunities, or other personal motives. Relocating, however, can be stressful, with numerous details to manage and tasks to remember. That's where Professional Moving Company steps in.
We're here to ease your move to or from The Hague. Our expert removalists are committed to providing the highest quality moving services, ensuring your transition is smooth and stress-free. Need temporary storage for your furniture or other belongings? We've got you covered with secure storage solutions. Trust us to handle every aspect of your move with professionalism and care, making your relocation to The Hague a comfortable and hassle-free experience.
Hire Moving Company The Hague
Ready to plan your move with ease? Reach out to us at Professional Moving Company in The Hague to schedule a no-obligation appointment. Our experts will visit you to discuss your specific moving needs and options. We'll then provide a personalized, non-binding price quote, ensuring it fits your unique situation.
Following our consultation, you'll receive a detailed written estimate outlining all costs involved. This transparency means no surprises or unexpected expenses post-move. Let us make your moving experience smooth and predictable. Contact Professional Moving Company in The Hague today and take the first step towards a hassle-free relocation.
Get A Free Quote For Move In The Hague
Receive Your Free Moving Quote in The Hague Today! Contact Professional Moving Company for an obligation-free estimate. Experience stress-free relocation, expert packing, secure storage, and efficient transportation with our top-rated moving services in The Hague. Don't wait, get your personalized moving quote now!
What our clients say about us
We take pride in our client reviews. They say that we are professional, fast, reliable and provided them with a high quality moving service!!
Our slient satisfaction is top priority!
Moving Company The Hague - Your Partner for a Smooth Move in The Hague
Professional Moving Company in The Hague
Searching for a reliable and efficient moving company in The Hague? Choose Professional Moving Company, your go-to provider for all relocation services in The Hague. Experience a seamless and stress-free moving journey with our expert team.
Transparent Moving Costs in The Hague
We believe in clear, upfront pricing for your move in The Hague. Our rates are competitively set: movers at €19 per hour, moving vans at €39 per hour, moving trucks at €50 per hour, and moving lifts at €100 per hour. Standard moving boxes are priced at €3 per 50-liter box, and large moving boxes for clothes at €15 each.
Book Your Hassle-Free Move in The Hague
Don't wait! Reserve your moving slot now for a smooth and efficient relocation in The Hague. Use our easy-to-navigate moving cost calculator to calculate the volume of your furniture and get a tailored estimate today.
Comprehensive Moving Services in The Hague
Our range of services in The Hague covers everything from meticulous packing to swift transportation. Whether it's a local move within The Hague's neighborhoods or a more extensive relocation, we've got you covered.
Explore The Hague's Vibrant Neighborhoods
Scheveningen Den Haag: Experience the lively beachfront and dynamic atmosphere.
Bezuidenhout Den Haag: Enjoy tranquility close to urban conveniences.
Den Haag Centrum: Immerse yourself in the heart of the city's energy.
Benoordenhout Den Haag: Discover luxury living near prestigious schools.
Laakkwartier Den Haag: Join a community-rich area known for its cultural diversity.
Why Choose Our Moving Services in The Hague
Opt for our expertise, tailored moving solutions, and transparent, competitive pricing. We're committed to ensuring customer satisfaction for every move in The Hague.
Contact Professional Moving Company in The Hague
Start your stress-free move today. Get in touch with Professional Moving Company for top-quality relocation services in The Hague. Learn more about this dynamic city on the City of The Hague's official website.
For more insights into housing and life in The Hague, visit Expatica's Housing in The Netherlands or explore the Dutch lifestyle at Holland's Official Travel Website.